Today 14th December,  marks the anniversary of a unique bridge in the South of France. Exactly nine years ago to the day, President Jacques Chirac inaugurated the splendid Millau Viaduct.
Spanning with its 2460 metres'  length the river Tarn  valley near Millau in Southern France, this cable-stayed road-bridge presents the onlooker a breathtaking view by its setting and bold design.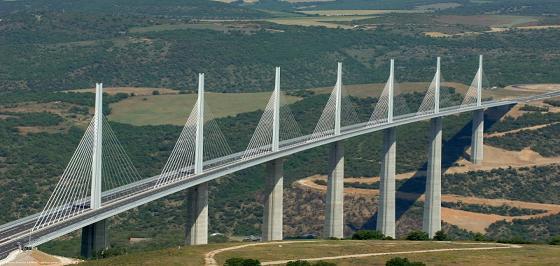 It has come to be ranked among the great engineering achievements of all times and holds the record of being the tallest bridge in the world with its highest mast reaching a height of 343 metres above its base structure. This is a height which exceeds that of the Eiffel tower by 19 metres.
Before its inauguration in 2004, the frustrations of the traffic congestion and delays were a nightmare, which reoccurred  every year during the holiday seasons for vacationers from Paris and elsewhere in Northern Europe who threaded their way through Provence on their route to the Côte D'âzur. 
The viaduct's opening, which removed a bottleneck around the town of Millau shortened by  37 miles the length of the former route through the region and closed a last gap in the A75 "autoroute" or highway, that provides now together with the A10 and A71  a continuous high-speed route from Paris in the north through Clermont-Ferrand  to the Languedoc region in the south and further on to Spain.

The bridge's construction by the Eiffage consortium, which required some 127,000 cubic meters of concrete, 19,000 tonnes of steel for the reinforced concrete and 5,000 tonnes of pre-stressed steel for the cables and shrouds,  took some three years and cost over €390 million to complete.
 It was designed by  the French structural engineer Michel Virlogeux and British architect Norman Foster,